PDX® Technology in Weigh Modules
PDX® load cell technology is as good as it gets with regards to weighing accurately and efficiency, so it was only a matter of time before the most advanced PDX®  digital load cells became available for more applications. METTLER TOLEDO produces weigh module versions of PDX® with the PinMount™ systems. In this post, we will look at different possible applications utilizing these load cells
Tank Weighing
PinMount™ weigh modules are rugged enough for the most intense tank applications. 360° stop and two lift-off bolts are standard safety features that allow the PinMount™ to be utilized on large, heavy capacity tank projects. PDX® technology means that your scale will be accurate even in harsh outdoor conditions. Predictive Diagnostics in the PDX® load cell allows for overload protection, temperature extremes, zero drift, and more. Any breach in the load cell can be signaled to the terminal, should the hermetic seal be broken. PinMount™ weigh modules utilizing PDX® load cells and an IND780 are also able to utilize "Run Flat" capabilities. If a load cell should fail, the IND780 will replace the faulty load sale virtually using previous weighing data, allowing you to continue operating your production until the load cell can be replaced.
Conveyors and Mixers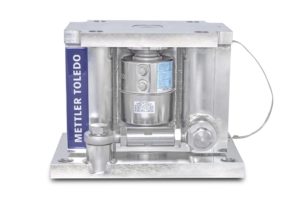 For conveyor and mixing applications, the PinMount™ weigh modules include unique stabilizers that can be applied to each weigh module to stabilize the weigh modules for any applications where heavy vibration, high torque, or in-motion weighing is used. Due to their unique design, thermal expansion is still possible, guaranteeing the best weighing performance out of the load cells. With the PDX® load cell's lack of a junction box, you can more efficiently install these weigh modules with just a single cable from the load cell to load cell with easy addressing.
Custom Applications
PinMount™ weigh modules can also be used for a variety of other dynamic custom applications from Check Weighers to any other project where weigh modules can be utilized. This includes division 2, zone 2/22 hazardous area applications as well.
PinMount™ weigh modules have the potential to revolutionize your production processes. These are the most accurate versatile weigh modules in the world with the lowest lifetime overall cost of ownership. Request a free asset evaluation to see if the PowerMount™ or PinMount™ is right for you.