POWERCELL® PDX® Technology
As with all forms of technology, load cells have evolved rapidly over the last decade.  Going from analog to digital was a big first step; however, PDX® technology is a game-changer in the industrial weighing industry.  From the elimination of junction boxes to the advanced predictive diagnostics capabilities, METTLER TOLEDO has developed the most accurate load cell available.  Accuracy equals efficiency, which in turn leads to rising profits. In this post we'll look at the top features of POWERCELL® PDX® Load cells and how they can help you in real life:
Physically Tough
Environmental conditions account for 76% of a vehicle scale's ongoing maintenance costs. When parts, labor, and downtime are factored in, the cost of maintenance can strain your budget. With hermetically sealed digital load cells, lightning protection verified by independent testing (which can withstand an up to 80K amp surge), and heavy-duty, corrosion-resistant stainless steel designed to combat the abusive environments, the POWERCELL® PDX® load cells are the toughest in class.
Digitally Smart
POWERCELL® PDX® load cells are a true digital load cell. That means that digital components inside of the load cell handle things such as cell addressing, predictive diagnostics, and digital accuracy. These digital load cells provide the highest level of accuracy with active digital compensation for things such as environmental forces, temperature change, and scale creep, using weighing data inside of the load cell. POWERCELL® technology also allows for more advanced diagnostics and monitoring of the condition of the load cell with real-time data on things such as:
Weighing errors
Overloading
Environmental Conditions
Network Health
Load Cell Voltage
Next Generation Convenience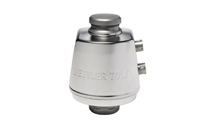 POWERCELL® PDX® load cells come with simple, junction box free networking. These load cells connect to one another in a simple network that transmits individual signals to a scale terminal. This means that hard to seal junction boxes, confusing cables, and difficult troubleshooting can all now be avoided. POWERCELL® PDX® load cells are also the easiest to replace when necessary, with a simple glass to metal cable connection.
This technology is a game changer for customers who need a high performing, durable load cell that outperforms the rest. Truck, weigh module, and other applications utilizing this unique product will have the lowest lifetime cost of ownership.