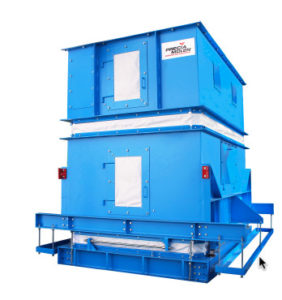 The ABS Series of automatic bulk weighers are ideal when used to load or unload railcars, barges, ships or trucks of granular products, such as grains, cake, wood pellets, etc. Upon request, specific models are also available for fertilizer, by-products, sugar, coal, mineral ores, etc. These bulk weighing scales are built to last, robust and reliable, and fitted with quality components ensuring long-term working order with little maintenance.
Our scales are designed to suit any limited space and are embedded in a floating weighing tower for superb accuracy. Bulk weighing scales are applicable for very high or low-density products, very high flow, or can be designed with a shape or size adapted to meet your requirements. Custom-designed bulk weighers can meet your requirements in height, weight, etc. while retrofitting or upgrading your operations.
The ABS Series of bulk weighers are uniquely designed with three garners to ensure that only the appropriate amount of material is loaded into your containers. This multiple garner system allows for the most accurate bulk filling automatically.
Operation
A weighing cycle is broken down into 4 phases: When the cycle starts, the electronic system checks that all startup conditions are met.
Phase 1

The feed gate opens to fill the weigh hopper

Phase 2

The feed gate closes and "gross weight" is saved.

Phase 3

The discharge gate opens to release the product isolated in the weigh hopper

Phase 4

The discharge gate closes and "tare weight" is measured
Self-Check Scale
The Self Check Scale (SCS) system self-checks the drafts using redundant weighing channels. This function can be used to regularly check that the main weighing channel is not drifting. This option insures the constant accuracy of this Automatic Weighing Instrument. SCS is available on all ABS-XL models. (AWI) without requiring intermittent validation of data by the operator.
Dynamic Check Weighing

Using the Self-Checking Scale device, it is no longer necessary in between to periodically verify the accuracy of the scale by using standard weights. The SCS system involves the use of a second, independent weighing channel with its own load cells and A/D converter, for all weighing runs.

Redundant Accuracy

The weights measured by this slave channel are periodically and routinely compared with the weights measured by the master channel, removing any risk of undetected gradual drift caused by mechanical or electrical factors. This provides the unquestionable assurance of constant weighing precision for the entire duration of automatic loading or unloading operations.
I410 ABS Indicator
Our scales come with the I410 ABS control system, designed specifically to fit the ABS Series of bulk weighers
I 410 ABS

The entire electronic I410 ABS range can offer functionalities enabling the use of a hopper scale with local or remote control thanks to computerized or automatic control systems. An I410 ABS terminal linked to a hopper scale may be connected to supervision software via a dedicated PC when loading railcars for example. Up to six hopper scales may be connected to this supervision software. The PC may be installed near to the hopper scales or remotely.
Designed for Speed
Easy Integration

ABS systems are designed to fit into your existing infrastructure for fast installation

Gate Options

You can choose between 1/2/3/ or 4 gates to ensure the fastest loading
Related Products
ABS-X

The ABS-X hopper scale is designed to automatically weigh dry granular products which flow well in process, such as grains. This unit is easy to install and maintain due to the simple design, low height, and small footprint. This unit is designed for capacities from 674lbs to 2,246lbs operating in a range of 674-7,500 BPH.

ABS-XL

The ABS-XL hopper scale is ideally suited for loading out grain, from grain elevators, storage silos, and export terminals. This is designed for higher capacity applications from 2,420 lbs to 28,440lbs. This unit operates from 5,500-110,000 BPH.