Effortless Pallet Weighing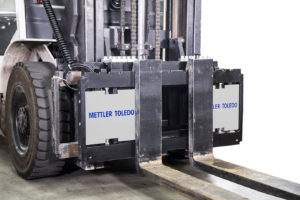 A forklift scale can save time and money by turning weighing into a one-step operation. The scale is built into the forklift truck's carriage, so you get an accurate weight reading simply by lifting a pallet. It eliminates the need to transport pallets to a platform scale, weigh them, and then remove the pallets afterward. The forklift driver can control all weighing operations from a scale terminal mounted in the cab.
Carlton Scale offers a wide variety of crane scales, forklift scales, and dimensioning products. We utilize our relationships with METTLER TOLEDO, MSI, LTS, Rice Lake, and others to find the product and solution that best fits your application.
METTLER TOLEDO VFS120
Heavy Duty forklift scales designed to make weighing as simple as moving a pallet. Choose from two communication options: wireless and wired. The wireless version transmits weight data from the scale carriage to the scale terminal via radio signal. The wired version transmits data from the carriage to the terminal via cable. The forklift scale capacity is 5,000 lb (readability is 5 lb)
Forklift Safety

Exceptional operator visibility windows allow the operator to position the load and transport goods safety through the facility. The METTLER TOLEDO VFS120's 3 point suspension system provides safe, secure, stable weighing results.

Quick ROI

Low maintenance costs, durability, and process improvements make the VFS120's ROI impact quick to your bottom line. In-process weighing can increase process speeds and greatly reduce weighing times while maintaining accuracy.

Advanced Terminals Inclded

The METTLER TOLEDO IND236 is included with all VFS120's. With either wired or wireless communication options between the terminal and the scale, your terminal is where your operators need it most