Want to Reduce the Chances of Costly Downtime?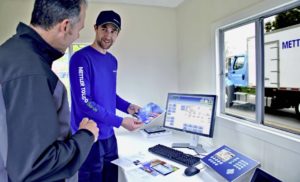 Have you ever had a scale break down in the middle of a production run? Maybe your scale equipment is not in compliance with legal for trade regulations or you have had to throw away a full batch of material. It only takes one costly experience to begin to think about the value of a preventative maintenance contract for your weighing devices.
Preventative maintenance is the best way to reduce your total cost of ownership for your investment in your weighing equipment. Safeguard your business from issues that are created by inaccurate, unreliable, and/or obsolete equipment.  Call Carlton Scale for a free asset evaluation to develop a preventative maintenance plan that works for your business.
Our Preventative Maintenance Services Include:
Reduced call service rates
Personalized scale maintenance plans
Equipment obsolescence warnings
Access to the most experienced technicians in the industry
24/7 priority call service response
Regularly scheduled service intervals
Customizable calibration intervals
Customer portal access to electronic calibration reports
Customizable calibration intervals
Customer portal access to electronic calibration reports