Tough In The Harshest Conditions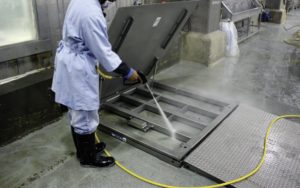 Wash down areas are commonly found in applications dealing with food production, chemical formulation, dye and paint creation and more. Equipment in those areas needs to be washed down for safety and hygienic reasons. Harsh chemicals or high pressured sprays can wear out equipment not designed for wet area use.
Carlton Scale with METTLER TOLEDO offers the toughest solutions on the market. Most of our terminals, floor scales, weigh modules and bench scales carry IPXX ratings to ensure that they are protected against high-pressure wash down areas.
EZ clean and EZ lift floor scales also offer effortless single operator cleaning to ensure that product does not hide in ingresses after cleaning. Hygienic weigh modules and terminals are now available!