The Best Hygienic Weigh Module In The World: METTLER TOLEDO SWB805
> 2 min Read Time
The SWB805 hygienic weigh module is one of the best-designed products that METTLER TOLEDO has ever produced. The SWB805 is a completely hygienic, self-draining weigh module designed particularly for food and beverage, pharmaceutical, or areas where contamination could become problematic. This weigh module is available in six weighing capacities from 250 lbs all the way up to 10,000 lbs.
Why Do I Need a Hygienic Weigh Module?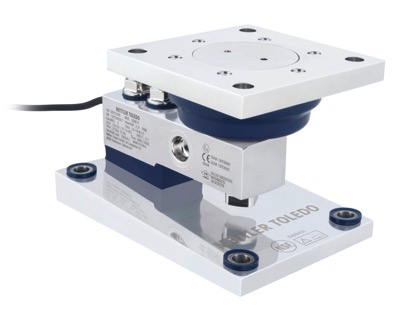 Due to safety regulations and quality control, today's production environments are becoming increasingly complex. Challenges exist in ensuring contamination-free manufacturing processes. Clean systems and processing areas are vital in the food, beverage, and pharmaceutical industries where a single contamination issue can lead to recalls, brand management concerns, and worse of all bring harm to consumers.
Contaminates usually come in three common types: cross-contamination, particle contamination, and microbial contamination. Typically these contaminants are combated by incorporating proper equipment and processes into the facility. Cross contamination is combated by cleaning between production runs while particle contamination can be attacked with proper air filtration in the facility. Microbial can be exceptionally harmful to consumers since it may be the cause of mold or other bacterial issues related to food production.
Properly designed equipment mitigates these contamination risks by ensuring a clean manufacturing environment. The best test for clean area equipment design is actually pretty simple, ensure that it is easy to clean.This reduces the risk of contamination that can arise from the equipment itself or from any kind of material or matter that can be trapped inside of the equipment. The hygienic design avoids small enclosed areas or narrow channels where contaminants tend to collect and cause issues.
What This Hygienic Weigh Module Solves: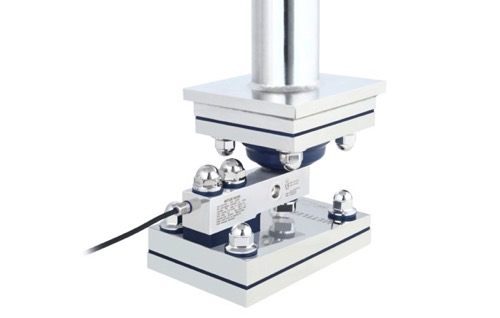 The SWB805 is NSF approved and designed according to EHEDG guidelines, assuring hygienic compliance in food and pharmaceutical application. The very nature of how this weigh module is built reduces the risk of contamination to keep your production area safe. The specially designed curved load cell is developed to be self-draining and clean while maintaining the METTLER TOLEDO accuracy you have come to expect.
Every surface of the SWB805 is mirror polished (RA <0.8) for easy cleaning and protection against cross-contamination. The weigh module also has no open metal to metal contacts and no hollow cavities to trap materials. Each junction point is enclosed in a soft rubber patented gasket which allows for horizontal movement. All fasteners are hygienically desired with spherical tops to prevent standing liquid. The angled base plate also prevents material and liquid accumulation. Washers, fasteners, joint areas, fasteners and other components are all FDA approved and intelligently designed to prevent contaminant collection.
The SWB805 also comes with unique METTLER TOLEDO weigh modules features, including integrated lift-off protection and full 360-degree checking. The load plate connects to the load cell through a ball in cup system to maintain accuracy and durability. METTLER TOLEDO's amazing CalFree™ technology is also available with this weigh module meaning that weight-less calibrations are possible for your tanks.
If you are interested in the METTLER TOLEDO SWB805 contact one of our representatives for a free consultation and quote