APPLICATION STUDY: Custom Check Weigher Size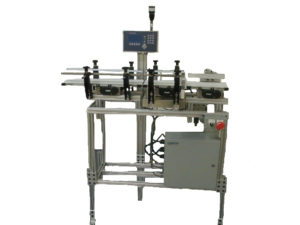 Product verification is an integral part of quality processes. Verifying correct parts, regulatory weight, and proper packaging is vital to ensuring that your customers receive the product they have paid for. In-motion check weighing is a common solution to check product quality. However, your processes may not fit standard solutions available on the market today. Here is a custom check weighing solution our Carlton Industrial Automation team built to solve those problems:
WHO:
Food and Beverage Customer
WHAT:
Weighing sealed 16oz packages
PROCESS DESCRIPTION:
The customer required a packed product to go over a check weigher in their in-motion process before final packaging. The custom indexing conveyor was used to create gaps in the product before it went over the scale. The scales would need to be precise enough to weigh 16oz packages with low tolerances. The customer was having difficulty finding an in-motion check weighing system that fit their accuracy needs as well as the unique speed of their process and conveyor size. Our solution could be customized to match this specific need.
APPLICATION SUMMARY:
Photo eyes were used to signal the start of weight data capture for efficient and accurate in-motion weighing. A rejection system was implemented, based on pre-loaded tolerances inside of the terminal. This system was triggered to reject out of tolerance product to a collection bin for examination. A stack light was used to signal operators when the system detected out of tolerance products. This allowed the operator to troubleshoot the issues quickly and reduce out of tolerance packages.
PRODUCTS USED
– METTLER TOLEDO IND570 with CheckPlus! TE program
– METTLER TOLEDO PBA430 12" x 12" (15) kg capacity
– Customized rejection system using a pneumatic cylinder and valve components
– Custom size/speed belt conveyor and conveyor start/stop controls
– Entrance and weigh photo eyes
Our Carlton Industrial Automation team are experts at check weighing customization. Request a free asset evaluation today to see how we can solve your biggest problems.