ACM360 Industrial Bluetooth Data Transfer Device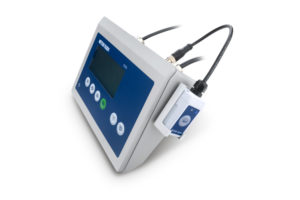 As connectivity demands increase in production facilities, the new ACM360 connector from METTLER TOLEDO can provide reliable means for connecting to scale terminals via Bluetooth. The ACM360 works with a variety of METTLER TOLEDO terminals to allow connection of printers and other Bluetooth 4.x devices in a fast, convenient way.
What Can I Do With This?
The ACM360 will turn almost any METTLER TOLEDO terminal into a Bluetooth device. IND780 terminals can easily and securely communicate with computers, IND570 terminals in harsh areas can communicate via Bluetooth for efficient printing wirelessly, and more! Software applications such as Carlton Industrial Automation Data CollectPlus! allows wireless weight data capture. By connecting an ACM360 to any METTLER TOLEDO terminal, Bluetooth data transfer from scale to a computer can be attained.

Use Cases
A common use case for the ACM360 is wireless printing to a centralized printer from a forklift. Forklifts utilizing a METTLER TOLEDO terminal, such as the IND236 provided with VFS120 forklift systems, can easily incorporate the ACM360 for wireless data transfer to centralized printers inside of a facility. This allows for a free and agile forklift operation. The ACM360 stores up to 10 different label templates, making a practical and economical solution for easy printing. The "multi-to-one" mode allows for several ACM360's to be connected to a single printer as well. This means that multiple forklifts with forklift scales can send data to a single centralized printer.
Accessibility:
The ACM360 utilizes the Bluetooth 4.1 standard, which is a low power consumption communication standard. Power is supplied by the terminal itself, resulting in a single connection to the terminal with no additional power adaptors needed. If a P2P Bluetooth connection is needed with the terminal, the ACM360 can also pair with another ACM360, giving sending and receiving abilities between two devices without Bluetooth. Commonly this is seen between a printer and a terminal but can also be used to communicate with computers or multiple terminals. The ACM360 is also rated with IP65 protection. Meaning a stable and reliable Bluetooth communication of 10 meters can be provided, making ticket printing and data communication in harsh or wash down environments easy.
To see products like the ACM360 and more, request a free product catalog using the form below.