Jaguar and JAGXTREME Replacements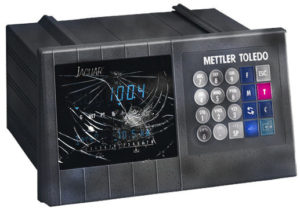 METTLER TOLEDO is the world's leading provider of weighing equipment.  They provided weighing equipment that lasts well past the availability of replacement parts. Terminals are a prime example of such equipment we see in the field, with the Jaguar and the JAGXTREME being two of the most popular. As partners for your productivity, this worries us. If these terminals go down through a critical process in your production, we're not going to have parts available for you and our only option is ordering replacement terminals. Safeguard your production process with the upgraded versions of these classic terminals, the IND570 and the IND780.
IND570
This highly versatile terminal will fit with any function that the Jaguar could handle. The IND570 is designed for uncomplicated integration into any application, regardless of complexity. Flexible control options allow the IND570 to fit standard applications such as fast updating discrete I/O and PLC communication to control a number of processes. USB host, RS-232/RS-422/RS-485 give this terminal the flexibility to communicate with almost any accessory you may have in your production. The IP69K (Harsh terminal) and IP65 (panel mount terminal) protection ensure that this terminal will last as long as your Jaguar, and even further.
IND780 
The IND780 is able to read 1,000,000 divisions, interface with up to four scales to view all four individually or in a  sum scale and interface with almost any situation you can throw at it. This is the terminal to fit your application. A simple operating system with enhanced graphics, SmartTac™, and an array of integrated functions means that your scale operator will be able to quickly read the weight and improve production time. The IND780's wide range of interface and digital input/output options means that the terminal will improve production regardless of where it fits in with your automated processes. The rugged IP69k protection rating on the "Harsh" terminal means that this terminal will last in your application. Built-in predictive maintenance and diagnostics help you predict errors and plan scale maintenance, which allows you to stay ahead and accurate instead of reacting after your scale is down. This terminal is your fast track to improving your production.